Emerging Stocks Down Under 7 September 2021: IDT Australia, Patrys, Genetic Technologies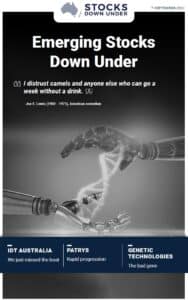 IDT Australia: We just missed the boat
In today's edition of Emerging Stocks Down Under, based in Melbourne, IDT Australia is a company that manufactures pharmaceutical ingredients. Since 1975, the company has been manufacturing Active Pharmaceutical Ingredients (APIs) and Finished Dosage Forms (FDFs). Apart from this, the company offers packaging, analytical and project management services. The company also began developing cannabis products in recent years, diversifying its portfolio. Since 2014, IDT has found a formula that works and it seems that it is about to reap the rewards of its efforts.
Also in today's edition, a look at antibody technology developer Patrys (ASX: PAB) and molecular diagnostics developer Genetic Technologies (ASX: GTG).
Click here to read the previous edition of Emerging Stocks Down Under published 31 August 2021
For in-depth research reports or to keep up-to-date on the latest Stocks Down Under news see our parent company, Pitt Street Research, or follow us on Facebook and Twitter.