Stocks Down Under 7 July 2020: Fisher & Paykel, Australian Ethical Investment, IVE Group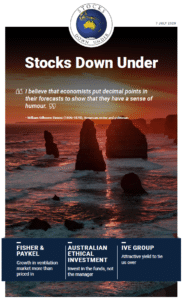 Fisher & Paykel: Growth in ventilation market more than priced in
Headquartered in Auckland, New Zealand, Fisher & Paykel Healthcare makes equipment for respiratory care, acute care and the treatment of obstructive sleep apnea (OSA). Its products are designed to improve outcomes both for adults and infants and are primarily sold internationally with only a small portion of revenue derived from the New Zealand market. Due in large part to a spike in ventilator demand during the coronavirus pandemic, the shares have more than doubled over the last 12 months and are trading at an all-time high. We believe Fisher & Paykel's innovative product pipeline places it in a good position to capitalise on the favourable demographics behind a rapidly growing global respiratory care market.
Also in today's edition, Australian Ethical Investment and IVE Group.
Get access to all editions with a 2-week FREE TRIAL. No charge on sign up.