ASX Top 200 Stocks Down Under 7 December 2020: Ingenia Communities Group, National Storage REIT, Z Energy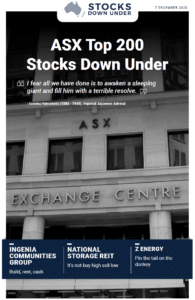 Ingenia Communities Group: Build, rent, cash
In today's edition of ASX Top 200 Stocks Down Under, headquartered in Sydney, Ingenia Communities Group is a diversified property developer focusing on four main areas: age-appropriate housing, housing development, tourism accommodation and aged care
communities. The company's stock was hit hard by COVID-19, dropping about 42% from its pre COVID-19 height down to $3.05, yet sharply recovered to $4.79 on Friday's close. Despite the hit to operations of many of Ingenia's peers, the company presented a strong FY20 result. This company still has plenty of opportunity to build on.
Also in today's edition, a look at storage real estate fund National Storage REIT (ASX: NSR) and New Zealand oil refiner Z Energy (ASX: ZEL).
Get access to all editions through a 30-day FREE TRIAL. No credit card required and the trial expires automatically.
Click here to read the previous edition of ASX Top 200 Stocks Down Under published 30 November 2020
For in-depth research reports or to keep up-to-date on the latest Stocks Down Under news see our parent company, Pitt Street Research, or follow us on Facebook and Twitter