Resources Stocks Down Under 19 November 2020: Legend Mining, BBX Minerals, Element 25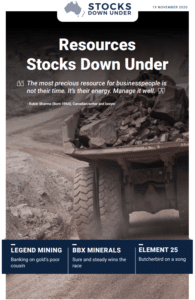 Legend Mining: Banking on gold's poor cousin
In today's edition of Resources Stocks Down Under, in what is becoming a very busy nickel region, Legend Mining is looking ahead to the next big nickel mine in the Fraser Range. Like its competitor, S2 Resources, Legend has experienced a breakthrough in its discovery of nickel mineralisation and is now waiting on assay results from its Mawson prospect. The ongoing news flow from the Range has led to increased confidence in the competing nickel miners but especially Legend, with a share price still above the dismal 6 cent level of March. With the stock returning to a prior support level, we give it four stars.
Also in today's edition, a look at gold and precious metal miner BBX Minerals (ASX: BBX) and manganese miner Element 25 (ASX: E25).
Get access to all editions through a 2-week FREE TRIAL. No charge on sign up.
Click here to read the previous edition of Resources Stocks Down Under published 10 November 2020
For in-depth research reports or to keep up-to-date on the latest Stocks Down Under news see our parent company, Pitt Street Research, or follow us on Facebook and Twitter