ASX Top 200 Stocks Down Under 20 September 2021: Lendlease Group, Bank of Queensland, Incitec Pivot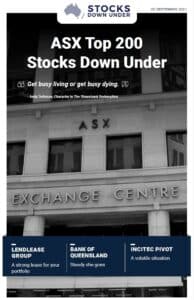 Lendlease Group: A strong lease for your portfolio
In today's edition of ASX Top 200 Stocks Down Under, We last reported on the Sydney-based Lendlease Group on 13 March 2020, putting a four-star rating on the stock. Unfortunately, COVID-19 has provided shareholders with effectively flat share price growth over the last year. We do believe the international real estate development industry will continue to face uncertainty well into 2022. However, despite these risks, Lendlease has made a number of significant restructuring and divestment moves that we believe have freed up capital and created a lean and more efficient company. And yet, we believe the shadow of the pandemic has hidden this fact from the market.
Also in today's edition, a look at successful turnaround bank, the Bank of Queensland (ASX: BOQ) and explosives and fertiliser manufacturer Incitec Pivot (ASX: IPL).
We last wrote about the Lendlease Group, Bank of Queensland, and Incitec Pivot on 13 March 2020, 12 March 2020, and 12 March 2020, respectively.
Click here to read the previous edition of ASX Top 200 Stocks Down Under published 13 September 2021
For in-depth research reports or to keep up-to-date on the latest Stocks Down Under news see our parent company, Pitt Street Research, or follow us on Facebook and Twitter.