Property Stocks Down Under 11 January 2023: Goodman Group (ASX:GMG)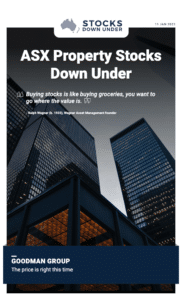 Goodman Group: The price is right this time
Last time we looked at Goodman Group (ASX:GMG), back in February last year, we titled the article 'Good assets, but at a bad price'. As a company that owns and leases industrial properties, particularly logistics facilities and warehouses, Goodman was a beneficiary from the eCommerce boom during the pandemic. We were not keen on the company, however, simply on valuation grounds – Goodman's share price nearly triple its NTA. Nearly a year on, the company's shares have fallen by a third. Is now a more appropriate time to get in? Or will the shares decline further?
Click here to read the previous edition of Property Stocks Down Under published 4 January 2023.
For in-depth research reports or to keep up-to-date on the latest Stocks Down Under news see our parent company, Pitt Street Research, or follow us on Facebook and Twitter.