Property Stocks Down Under 4 January 2023: Mirvac (ASX:MGR)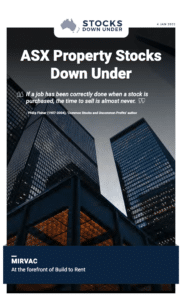 Mirvac (ASX:MGR): At the forefront of Build to Rent
It has been 10 months since we last looked at Mirvac (ASX: MGR), Australia's largest listed developer of residential, commercial and industrial properties. We were, and still are, bullish on the company, because it is the best chance for ASX investors to gain exposure to the growing 'Build to Rent' (BTR) sector. Despite the promising long-term outlook, MGR shares fell 25% in 2022 due to adverse conditions in the property market.
Click here to read the previous edition of Property Stocks Down Under published 21 December 2022.
For in-depth research reports or to keep up-to-date on the latest Stocks Down Under news see our parent company, Pitt Street Research, or follow us on Facebook and Twitter.