Property Stocks Down Under 13 July 2022: Garda Property Group (ASX:GDF)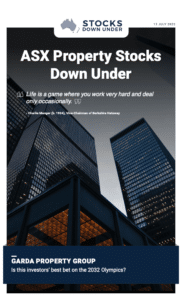 Garda Property Group: Is this investors' best bet on the 2032 Olympics?
In a decade's time, the Summer Olympics will be coming to Australia for the third time and Brisbane will be hosting. Garda (ASX: GDF) is a property fund with exposure to industrial properties in inner Brisbane. It has had short-term challenges and is not the highest yielding property stock by any means. But we think investors looking for long-term portfolio growth will not be disappointed.
Click here to read the previous edition of Property Stocks Down Under published 6 July 2022.
For in-depth research reports or to keep up-to-date on the latest Stocks Down Under news see our parent company, Pitt Street Research, or follow us on Facebook and Twitter.