Property Stocks Down Under 6 July 2022: Cromwell Property Group (ASX:CMW)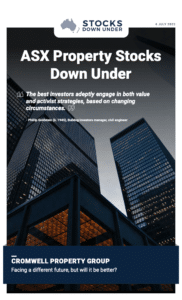 Cromwell Property Group: Facing a different future, but will it be better?
We last covered Cromwell Property Group (ASX: CMW) in March 2021 and its share price is only slightly ahead of where it was back then. You'd imagine little has happened, but it's been the opposite. It has overhauled its board and management, spun off certain non-core assets and is looking to list its office assets into its own REIT, rather than being part of the current funds management business.
Click here to read the previous edition of Property Stocks Down Under published 29 June 2022.
For in-depth research reports or to keep up-to-date on the latest Stocks Down Under news see our parent company, Pitt Street Research, or follow us on Facebook and Twitter.