Property Stocks Down Under 25 May 2022: Auckland Real Estate Trust (ASX: ARE)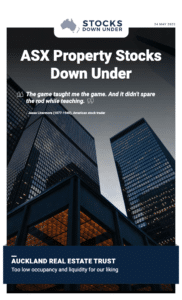 Auckland Real Estate Trust: Too low occupancy and liquidity for our liking.
There are few ASX-listed REITs with no exposure to Australia whatsoever, but Auckland Real Estate Trust (ASX: AKL) is one of them. It specialises in the Auckland commercial property market and is dually listed on both sides of the Ditch. Unfortunately, the one thing that drags this company down is its lack of liquidity.
Click here to read the previous edition of Emerging Stocks Down Under published 18 May 2022.
For in-depth research reports or to keep up-to-date on the latest Stocks Down Under news see our parent company, Pitt Street Research, or follow us on Facebook and Twitter.