Property Stocks Down Under 27 April 2022: Abacus Property Group (ASX:ABP)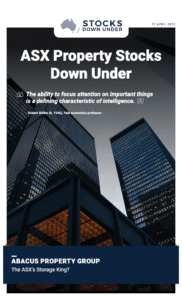 Abacus Property Group: The ASX's storage kings?
Abacus Property Group (ASX: ABP) has historically had one of the more diverse portfolios among all ASX REITs. But after some years of being the jack of many trades, it is increasing its focus on self-storage facilities, particularly Storage King outlets. And although it still has significant exposure to office spaces – an area that has caused headaches for many ASX REITs given people working from home – this segment isn't a write off just yet.
Click here to read the previous edition of Emerging Stocks Down Under published 20 April 2022.
For in-depth research reports or to keep up-to-date on the latest Stocks Down Under news see our parent company, Pitt Street Research, or follow us on Facebook and Twitter.