Property Stocks Down Under 4 May 2022: Finbar Group (ASX:FRI)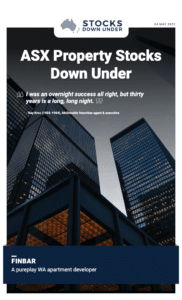 Finbar: A pureplay WA apartment developer
Finbar (ASX: FRI) is one of the few ASX property stocks exposed exclusively to Western Australia. The company develops apartments, selling them off the plan and during construction. You have to admire the company for its long-term record of profitability. However, the Perth unit market is heavily reliant on the resources sector and it hasn't performed as well as unit markets in other states or even Perth's housing markets. Only time will tell how it performs post-COVID.
Click here to read the previous edition of Emerging Stocks Down Under published 27 April 2022.
For in-depth research reports or to keep up-to-date on the latest Stocks Down Under news see our parent company, Pitt Street Research, or follow us on Facebook and Twitter.