Emerging Stocks Down Under 14 December 2021: Proptech Group, Gefen International AI, Austco Healthcare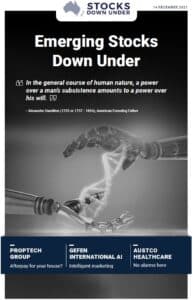 Proptech Group: Afterpay for your house?
In today's edition of Emerging Stocks Down Under, just like the property market it serves, PropTech Group's price soared in the first half of 2021, rising 100% from A$0.40 to A$0.82, although recently it has come off the boil to A$0.64. PropTech is a software developer dedicated to serving the real estate industry, providing end-to-end solutions under one roof to assist in all elements of marketing, selling and purchasing property. Half of all real estate agencies across Australia and New Zealand, including Ray White, Raine & Horne and Harcourts, are now using at least one of its products and A$179bn worth in transactions were facilitated by its software in the last year. In August 2021 the company announced the launch of PropPay, a joint venture to bring the Buy Now Pay Later (BNPL) revolution to the real estate industry.
Also in today's edition, a look at digital transformation and marketer Gefen International AI (ASX: GFN) and nurse call systems developer Austco Healthcare (ASX: AHC).
Click here to read the previous edition of Emerging Stocks Down Under published 7 December 2021
For in-depth research reports or to keep up-to-date on the latest Stocks Down Under news see our parent company, Pitt Street Research, or follow us on Facebook and Twitter.