Resources Stocks Down Under 12 May 2022: BlackEarth Minerals (ASX:BEM)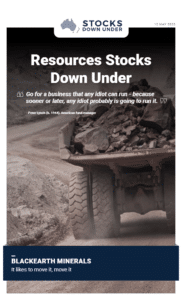 BlackEarth Minerals: It likes to move it, move it
Say the name 'Madagascar' to most Australians and they'll likely think of only three things: Lemurs, those magnificent boabab trees or that 2005 film with the penguins. However, this large mineral-rich island nation off the south-eastern part of the African continent is becoming more popular with resources investors and BlackEarth continues to make progress with its Maniry Graphite project. The company is amidst a DFS for Maniry but the latest update of its scoping study has shown it to be at least US$180m after tax.
Click here to read the previous edition of Resources Stocks Down Under published 5 May 2022
For in-depth research reports or to keep up-to-date on the latest Stocks Down Under news see our parent company, Pitt Street Research, or follow us on Facebook and Twitter.