Resources Stocks Down Under 17 March 2022: Antilles Gold (ASX:AAU)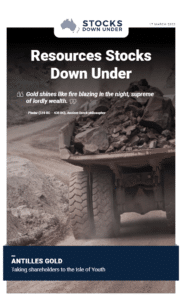 Antilles Gold: Taking shareholders to the Isle of Youth
There's no shortage of gold explorers on the ASX but Antilles is the only one in Cuba. Cuba doesn't have the best reputation but Antilles' La Demajagua project could potentially work out. It has a JORC resource of 7.7 million tonnes at 2.9g/t gold for 720,000 ounces of gold. The recent scoping study estimated an NPV of US$218m at an 8% discount rate for an IRR of 32.7%. And the company is chaired by Brian Johnson, who has a proven track record of creating successful mining operations.
Click here to read the previous edition of Resources Stocks Down Under published 10 March 2022
For in-depth research reports or to keep up-to-date on the latest Stocks Down Under news see our parent company, Pitt Street Research, or follow us on Facebook and Twitter.