Resources Stocks Down Under 17 November 2022: Leo Lithium (ASX:LLL)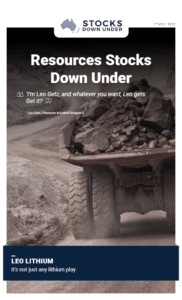 Leo Lithium (ASX:LLL): It's not just any lithium play
In this market, any lithium company is doing well. Investors have every right to be excited about the sector given the demand for battery metals that will continue to expand in the years ahead. But not every lithium company is in the position of Leo Lithium (ASX:LLL). Leo Lithium is going to be the first hard rock lithium project in West Africa, is in a 50-50 joint venture with the world's largest lithium chemical producer and is  substantially funded to production. And the company has already made the Final Investment Decision.
Click here to read the previous edition of Resources Stocks Down Under published 10 November 2022.
For in-depth research reports or to keep up-to-date on the latest Stocks Down Under news see our parent company, Pitt Street Research, or follow us on Facebook and Twitter.