Resources Stocks Down Under 26 May 2022: Tamboran Resources (ASX:TBN)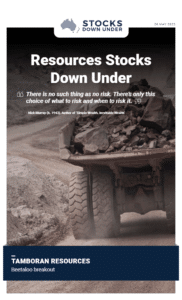 Tamboran Resources: Beetaloo breakout
How would you like to own a piece of the next North West Shelf or the next Cooper Basin before it becomes
well known? Well, get to know the 'Beetaloo Sub-basin'. Tamboran Resources reckons it can turn 31 TCF
(trillion cubic feet) of net prospective resources in the Beetaloo into at least 1 TCF of the company's 2P reserve
by 2023. The successful Tanumbirini horizontal wells tell you this company is on to something.
Click here to read the previous edition of Resources Stocks Down Under published 19 May 2022
For in-depth research reports or to keep up-to-date on the latest Stocks Down Under news see our parent company, Pitt Street Research, or follow us on Facebook and Twitter.