Resources Stocks Down Under 2 June 2022: Grand Gulf Energy (ASX:GGE)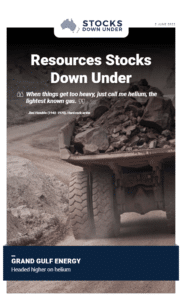 Grand Gulf Energy: Headed higher on helium
Grand Gulf Energy (ASX: GGE) is going places with its Red Helium Project in Utah. The Jesse#1A well is potentially company-making in terms of the helium that may show up and the market for helium is promising, because demand is strong and there isn't much supply around.
Click here to read the previous edition of Resources Stocks Down Under published 26 May 2022
For in-depth research reports or to keep up-to-date on the latest Stocks Down Under news see our parent company, Pitt Street Research, or follow us on Facebook and Twitter.