Resources Stocks Down Under 3 November 2022: ABx Group (ASX:ABX)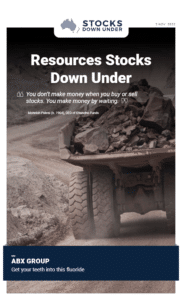 ABx Group: Get your teeth into this flouride
Once upon a time ABx Group, when it was called Australian Bauxite, was set to be the next big bauxite player Down Under, with a suite of bauxite fields in the eastern half of the country. Over the last five years, the company has evolved into more of an aluminium technology play. On top of this, those old bauxite fields might still be valuable. It turns out a few of them are potentially rich in rare earths.
Click here to read the previous edition of Resources Stocks Down Under published 27 October 2022.
For in-depth research reports or to keep up-to-date on the latest Stocks Down Under news see our parent company, Pitt Street Research, or follow us on Facebook and Twitter.