Small Cap Stocks Down Under 22 July 2022: Aussie Broadband (ASX:ABB)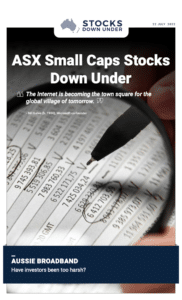 Aussie Broadband: Have investors been too harsh?
Telcos are not the most liked businesses, but Aussie Broadband is proving an exception, to customers and
investors. Aussie Broadband is one of several NBN providers in Australia and prides itself in its high internet
speeds and customer service experience. Since listing on the ASX in 2020 at $1 per share it has substantially
grown its customer base, revenues and, consequently, its share price. It went as high as $5.95 in late April
2022 before dipping after informing shareholders it would only meet the lower end of its guidance. Has the
subsequent dip presented an opportunity to buy in?
Click here to read the previous edition of Small Cap Stocks Down Under published 15 July 2022.
For in-depth research reports on ASX-listed stocks, check out our parent company, Pitt Street Research, or follow us on Facebook and Twitter.