Small Cap Stocks Down Under 23 September 2022: Universal Store (ASX:UNI)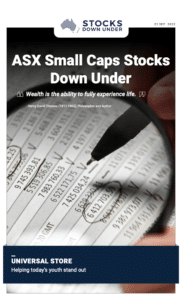 Universal Store: Helping today's youth
There's no shortage of fashion outlets on the ASX, but Universal Store (ASX:UNI) is one of the newest and
most peculiar. Its focus is casual youth apparel, targeting millennials and Gen Z customers. The stock has
traded above its IPO price for virtually all of its listed life, but has slipped this year as inflation has risen and the
growth in eCommerce has cooled. Has talk of the demise of Universal's customers been greatly exaggerated?
Click here to read the previous edition of Small Cap Stocks Down Under published 16 September 2022.
For in-depth research reports on ASX-listed stocks, check out our parent company, Pitt Street Research, or follow us on Facebook and Twitter.