ASX Top 200 Stocks Down Under 31 January 2022: Wesfarmers, Chalice Mining, Home Consortium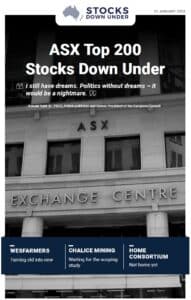 Wesfarmers: Turning old into new
In today's edition of ASX Top 200 Stocks Down Under, we last reported on Perth-based Wesfarmers on 29 March 2021, rating the stock three stars. Since then, the stock has performed mostly along our expectations. A lot has changed since we published our report and as we will explain, Wesfarmers is no ordinary retailer due to its massive diversification and expanding involvement in other investments. But the question we need to answer is whether the changing economic landscape and the company's expanding investments make Wesfarmers a worthwhile investment?
Also in today's edition, a look at 3E mining explorer Chalice Mining (ASX: CHN) and REIT manager Home Consortium (ASX: HMC).
We last wrote about the Wesfarmers and Home Consortium on 29 March 2021 and 17 August 2020.
Click here to read the previous edition of ASX Top 200 Stocks Down Under published 24 January 2022
For in-depth research reports or to keep up-to-date on the latest Stocks Down Under news see our parent company, Pitt Street Research, or follow us on Facebook and Twitter.