ASX Top 200 Stocks Down Under 24 January 2022: Aneka Tambang, Novonix, Judo Capital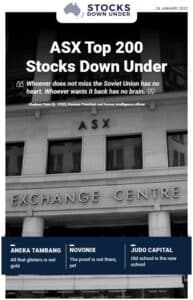 Aneka Tambang: All that glisters is not gold
In today's edition of ASX Top 200 Stocks Down Under, headquartered in Jakarta, Indonesia, dual-listed Aneka Tambang is a diversified Indonesian miner, producing nickel, ferronickel, gold, silver, bauxite and coal through its owned and operated mines. Despite having a market capitalisation of over $5bn, the company's ASX-listing is its secondary one (primary is the Indonesia Stock Exchange), and it has approximately 1m shares currently outstanding in Australia. In other words, the stock could almost be considered illiquid on the ASX. Keeping that in mind, let's consider whether it's worth dealing with the liquidity and currency risk.
Also in today's edition, a look at battery technology developer Novonix (ASX: NVX) and upstart SME-focused bank Judo Capital(ASX: JDO).
We last wrote about Novonix and Judo Capital on 18 June 2020 and 23 November 2021.
Click here to read the previous edition of ASX Top 200 Stocks Down Under published 17 January 2022
For in-depth research reports or to keep up-to-date on the latest Stocks Down Under news see our parent company, Pitt Street Research, or follow us on Facebook and Twitter.