ASX Top 200 Stocks Down Under 28 June 2021: Westpac Banking Corporation, Magellan Global Fund, Latitude Group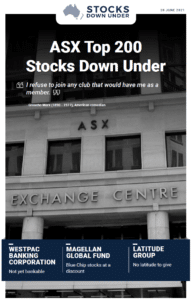 Westpac Banking Corporation: Not yet bankable
In today's edition of ASX Top 200 Stocks Down Under, Westpac Banking Corporation, headquartered in Sydney, is one of the four pillars of Australian banking. This bank has had its fair share of scandals, which we covered the last time we wrote about WBC on 25 May 2020. We had hoped all the skeletons were out of the closet, but it seems that is not yet the case. Unfortunately, when we look at the value and risk of continued regulatory trouble, as investors this is not a company we would bank on.
Also in today's edition, a look at closed-end investment fund Magellan Global Fund (ASX: MGF) and alternative lender the Latitude Group (ASX: LFS).
Click here to read the previous edition of ASX Top 200 Stocks Down Under published 21 June 2021
For in-depth research reports or to keep up-to-date on the latest Stocks Down Under news see our parent company, Pitt Street Research, or follow us on Facebook and Twitter.