ASX Top 200 Stocks Down Under 05 July 2021: Pilbara Minerals, Orocobre, Inghams Group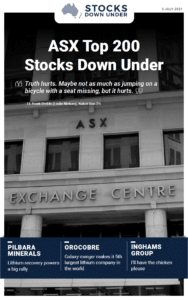 Pilbara Minerals: Lithium recovery powers a big rally
In today's edition of ASX Top 200 Stocks Down Under, when we last wrote about Perth-based Pilbara Minerals on 7 January 2020 the share was trading at a depressed level. So was the price of lithium, the miner's key asset. What a difference a year makes. Lithium prices have since surged approximately 80% and Pilbara's share price has more than tripled. With the stock now trading near an all-time high, we think it still has plenty of room to run. Strong lithium demand from electric vehicle (EV) battery manufacturers should lead to some powerful results at Pilbara over the next few years.
Also in today's edition, a look at lithium producer Orocobre (ASX: ORE) and poultry producer the Inghams Group (ASX: ING).
Click here to read the previous edition of ASX Top 200 Stocks Down Under published 5 July 2021
For in-depth research reports or to keep up-to-date on the latest Stocks Down Under news see our parent company, Pitt Street Research, or follow us on Facebook and Twitter.