BUY
Date of inclusion: 2 January 2022
Share price on inclusion in Marc & Stuart's Top Picks: $5.29
52-week range: A$4.97 / A$10.87
Risk Level: Medium
A2 Milk took a big hit due to COVID-19
New Zealand-born, but mostly Australia-based A2 Milk (ASX:A2M), produces cow's milk that only contains the A2 protein, not A1. The milk protein beta-casein A1 has a connection with ischaemic heart disease, so there are a lot of health benefits to drinking A2 milk compared to regular milk.
A2M is recovering from the blow that COVID-19 dealt the company in 2020. The all-important daigou distribution channel to China dried up as COVID travel restrictions kicked in. Daigous are Chinese expatriates purchasing products from overseas and shipping them back to consumers in China. With the daigous disappearing, revenues took a big hit and plummetted from NZ$1.7BN in 2020 to NZ$1.2BN in 2021.
Watch our AusBiz interview on A2 Milk here
Things are looking up
However, with new management in place and a fresh China strategy, we believe things are looking up for A2M. The new strategic plan sees A2M marketing and selling directly into China. The company has provided a revenue target of $2BN in 2025. The market is in a wait-and-see mode with revenue estimates for FY25 about 10% shy of management's target. So, that leaves room for the company to outperform market estimates in the next few years.
Read our our recent NEWS article on A2M here
The valuation has become very compelling
The current valuation is quite attractive, in our view. The market values A2 Milk at an EV/EBITDA of 13.6x for FY23, which starts in five months. For FY24, A2M is trading at 10.6x EV/EBITDA. However, given the anticipated EBITDA growth rate of 32.5% and 28.2% for both years, the stock is only trading on an approximate 0.4x EV/EBITDA-to-EBITDA-growth ratio for FY23 and FY24. We consider that a very attractive proposition.
Strong support from a technical analysis point of view
Looking at the current share price in the chart below, we believe there is strong support around the A$5 level at the moment. At the very minimum, we see upside to just overA$7, i.e. about 40% from our inclusion price of A$5.29. However, long term investors can play the China recovery game keeping management's FY25 targets in mind. We suspect the company may surprise the market to the upside if it can achieve the $2BN revenue target.
An attractive risk-reward ratio
We recommend putting a stop-loss in place around $4.80 to $4.90 in case we are wrong about A2 Milk. That would leave 9% downside from our inclusion price versus a potential upside of around 40% to the top of the current trading range, which we believe presents an attractive risk-reward ratio.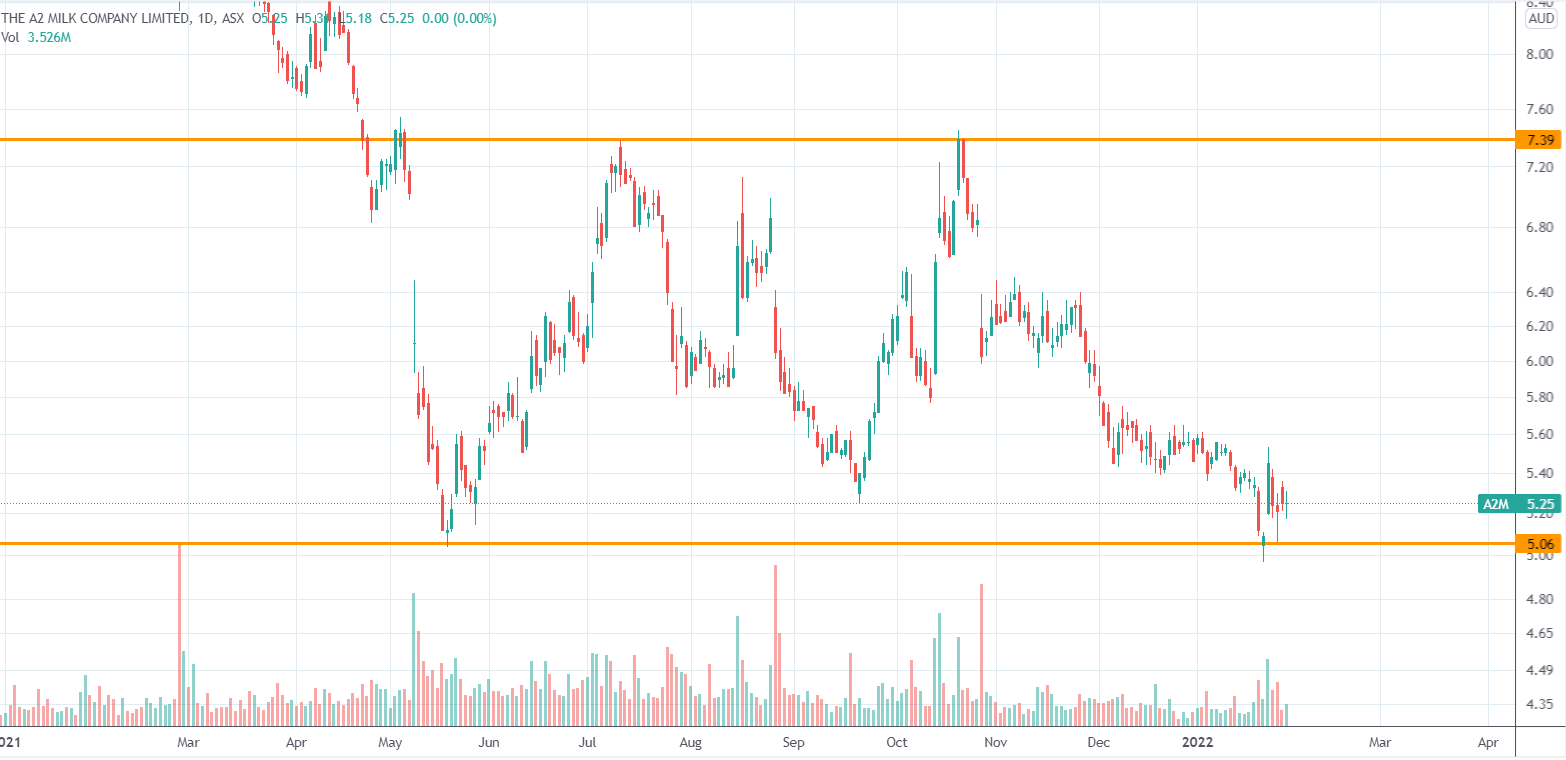 Key company specific risks
We believe the main risk for A2M is failure to revive the Chinese market, for instance because of distribution and supply chain issues or geopolitical issues between China and Australia.
Additionally, there are obviously risks when companies work with live stock, like diseases.