1HY23 reporting season is over: Here are 5 of the best results from ASX companies
With 1HY23 reporting season completed, Stocks Down Under looks at 5 of the best results.
These companies may not have necessarily recorded the highest growth or largest profit, but they have unexpectedly performed amidst an environment that should be challenging.
SIGN UP FOR THE STOCKS DOWN UNDER NEWSLETTER NOW!
1. QBE (ASX:QBE)
QBE uses the calendar year as its financial year and so it was reporting its FY22 results rather than 1HY23.
The company's FY22 NPAT was US$770m, up from US$750m in FY21, and it recorded a 10.5% cash Return on Equity.
The company paid a total dividend of 3c per share, representing a payout ratio of 48% of adjusted cash profit and a 2.9% yield at yesterday's closing share price.
There were difficult economic conditions during 2022 with heightened inflation, geopolitical tensions, elevated catastrophic activity and poor financial market conditions.
Indeed, QBE recorded an investment loss of $776m after a $122m return in FY21. This was due to unrealised losses associated with the significant increase in bond yields.
However, the insurer's customers see the need for its service more than ever and were willing to pay more for an additional layer of protection.
QBE recorded gross written premium growth of 13% and a groupwide renewal increase of 7.9%.
Looking to FY23, the company promised gross written premium growth of mid to high single digits.
2. Sonic Healthcare (ASX:SHL)
Sonic is one of those pathology stocks that made a lot of money from PCR-tests. Naturally, revenue fell in 1HY23 – but only by 14%.
And the company's base business revenue was 9% up from 1HY22 and up 11% from 1HY20 (the last 6-month period prior to the pandemic).
Although NPAT was down 54%, it was up 50% from pre-pandemic. Seemingly, it was the latter figure that impressed investors.
Nevertheless, it remains to be seen if this too is a one-off figure. This is because consumers spent much of 1HY23 catching up from medical tests that they delayed during the pandemic.
The company also told investors it would continue to pivot towards higher value tests, such as genetic testing and microbiome testing services.
3. Johns Lyng Group (ASX:JLG)
Johns Lyng Group recorded $635.6m in revenue in 1HY23, up 71% from 1HY22.
Revenue from the company's Insurance Building and Restoration Services (IBRS) division increased by 62% to $374.8m, but revenue from Catastrophe work rose 179% to $186.1m.
The latter was due to increased catastrophic weather events, particularly Hurricane Ian in the US but there were also several disasters in Australia.
The company's Net Profit After Tax came in at $34.1m, up 84%, and its EPS was 9.68c, up 88%. There was also strong EBITDA growth, with the $59.4m result being 63% higher than 12 months.
Nonetheless, Johns Lyng Group only paid a dividend of 4.5c per share, which was only 47% of NPAT and a yield of only 1.4% on an annualised basis.
The 1HY23 result caused the company to update its guidance for the full year.
It is now expecting $1.15bn in revenue, up 15% from FY22 and an 11.2% upgrade from the original guidance, along with $111.1m in EBITDA, which would represent a 13% increase from FY22 and is a 5.5% upgrade from previous guidance.
Investors might argue that this result was a one-off but the company disagrees. CEO Scott Didier claimed that the value and duration of catastrophic events has been increasing – in other words, revenues from disasters flow over multiple periods.
4. Goodman Group (ASX:GMG)
Few property stocks had anything to crow about during 1HY23, but this industrial stock was one of them.
Its operating profit for 1HY23 was $877m, up 11.5%, its EPS was 46.4c, up 10.7%, NTA was $8.87, up 6% and AUM was $79.5bn, up 17%.
The company reported its portfolio was almost fully leased, development activity continued to be robust and there were no supply chain disruptions impacting its development work whatsoever.
It reiterated a 30cps distribution forecast and that it would achieve OEPS growth of 13.5% compared to the previous guidance of 11%.
The one disappointment for investors is that it has not increased its distribution in five years.
5. Universal Store (ASX:UNI)
There were few stocks targeting penny-conscious customers that did well, but Universal Store was one of them.
The casual fashion outlet, that targets the 18-35 age demographic, recorded a 35% jump in sales to $145.7m.
It recorded an NPAT of $17.8m, up 32% and it closed 1HY23 with a net cash position of $14.3m.
Although the company did not provide guidance for the full year, it reported 2H had begun with solid sales, up 13.6% from pcp.
Investors could've been forgiven for not expecting a good result given its target demographic. However, you could argue that the low levels of home ownership amongst UNI's target market protected the company from a major impact due to interest rate increases.
1HY23 saw mixed results, but a few good ones
CommSec data has found that among ASX 200 companies reporting 1HY23 results (excluding those using different financial years) recorded a 30% fall in profits and expenses rise quicker than sales (15% versus 11%).
So in this context, any company reporting higher profits is good news.
But the five companies in particular are noteworthy because you may have expected these companies to underperform in the current macroeconomic environment.
Stocks Down Under Concierge is here to help you pick winning stocks!
The team at Stocks Down Under have been in the markets since the mid-90s and we have gone through many ups and downs. We have written about every sector!
Our Concierge BUY and SELL service picks the best stocks on ASX. We won't just tell you what to buy – we give you a buy range, price target and stop loss level in order to maximise total returns. And we will only recommend very high conviction stocks where substantial due diligence has been conducted.
Our performance is well ahead of the ASX200 and All Ords.
You can try out Concierge for 3 months … for FREE.
GET A 3-MONTH FREE TRIAL TO CONCIERGE TODAY
There's no credit card needed – the trial expires automatically.


Stocks Down Under
Average rating:
0 reviews
If investing in resources stocks (particularly junior explorers) is too risky, another option is investing in metal exchanges. But is…
Investors have been excited about Leo Lithium (ASX:LLL) over the past year and so have we! We thought this was…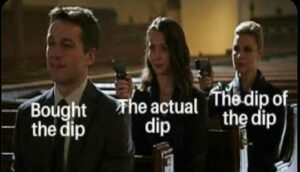 We recap the 5 top investing mistakes that investors make. These mistakes are not the only ones investors make, but…