ReadyTech (ASX:RDY) has terrific prospects to fly on the wings of Digital Transformation
ReadyTech (ASX: RDY) is in our view one of the best tech stocks on the ASX. It has a track record of growth, serves inflation-proof end markets and is set for good growth in the years ahead.
SIGN UP FOR THE STOCKS DOWN UNDER NEWSLETTER NOW!
Who is ReadyTech?
ReadyTech provides SaaS technology in Australia and operates in three segments: Education, Workforce Solutions and Government and Justice.
The Education segment offers cloud-based student and learning management systems for education and training providers to manage the student lifecycle, including student enrolment and course completion.
This segment also provides platforms to help state governments manage vocational education and training programs.
The Workforce Solutions segment offers payroll software, outsourced payroll services and human resource management software solutions to assist employers with payroll and management of their employees in mid-sized companies.
The Government and Justice segment offers government and justice case management SaaS solutions to local and state governments as well as justice departments.
It also provides asset management, property, licensing and compliance, finance, HR and payroll, and customer management products.
ReadyTech was founded in 1998 and listed on the ASX in 2019 at $1.50 per share. Although it is off its all time highs, it is still well ahead of its IPO price.
COVID-19 has increased the demand for digital transformation – and the growth is not over
Organisations in all three segments of ReadyTech's business – Education, Workforce and Government – are experiencing a growing and ongoing migration to cloud and SaaS.
This digital transformation across all industries is nothing new, but what is news that this transformation has been accelerating in the wake of COVID-19 shutdowns as demand soared for technology-driven initiatives to enable remote work, distance learning, new customer experiences and new online sales channels.
But it is only just getting started. Goldman Sachs estimated last year that transition from on-premise systems to Cloud software is just 20% completed. It also estimated that annual revenues are US$235bn compared to enterprise IT revenues of US$1.4tn and the Cloud could easily grab that and even more from non-digital spending.
ReadyTech is well-positioned to benefit from the opportunities created by the accelerated digital transformation.
The company is investing more than 30% of its revenue in research and development activities to align its products with different customers, including larger enterprises, where it can open up new market opportunities for its businesses.
It has also engaged in M&A activity to make itself a 'one-stop shop' for its clients.
Good FY22 and 1HY23 results
In FY22, the 12 months to June 30 2022, ReadyTech recorded $78.3m in revenue, up 56.5% overall and 16.8% on a like for like basis (excluding the impact of M&A).
EBITDA rose over 45% to $27.5 – representing a 35.1% margin – while NPAT rose 35% to $14.3m.
The company boasted a net customer revenue retention rate of 106% and 46% growth in the average revenue per new customer. 84% of revenue was recurring.
Turning to 1HY23, revenue grew 34.1% from 1HY22 to $47.9m, EBITDA came in at $15.6m although its NPAT was just under $1m due to the purchase of IT Vision which cost $22.4m in upfront cash.
It may be liable to pay up to $31m extra subject to earnout milestones being achieved.
ReadyTech affirmed FY23 guidance of mid-teens organic revenue growth and a 35-36% EBITDA range.
It is aiming to achieve over $160m in organic revenue in FY26 and says its high conviction pipeline of over $27m gives it confidence that this can be achieved.
ReadyTech's valuation is attractive
There are 5 analysts covering the stock and their mean target price is $4.16 – a 42% premium to its intraday price on March 17, 2023.
Consensus estimates suggest $104.3m in revenue and $34.4m in EBITDA in FY23 followed by $119.9m in revenue and $40.7m in EBITDA in FY24.
The company is expected to grow its EBITDA by 25% and 18% in those years. Revenues, meanwhile, are expected to grow 33% and 15%.
RDY trades at P/E multiples of 21.1x for FY23 and 17.6x for FY24. Its EV/EBITDA multiples are 11x and 9.3x for FY23 and FY24 respectively.
We expect ReadyTech to continue this notable rate of growth for the next few years as it is heavily investing in R&D and is opening doors to new customers and markets.
Although the company is profitable, we don't expect it to pay dividends for the foreseeable future as it has many growth opportunities and the company also states that it will remain focused on growth.
We think ReadyTech can double
We have constructed a model for ReadyTech and we think it is worth $6.14, more than double its current price.
We have used modelled with consensus estimates up to FY27 then assumed 10% growth thereafter.
Its NPAT margin was 11.1% in FY22 and is set to be 16.2% in FY23 and 19.6% in FY24. We assume it can maintain a similar margin for the years ahead.
Our WAAC is 11.07% derived from a 1.5 beta, a 5% equity risk premium and a 3.6% risk free rate of return.
So why is ReadyTech down?
Obviously the sentiment towards tech stocks has not been positive in the last 12 months. Although ReadyTech is profitable, it is only just so given M&A activity.
And a $4.50 per share takeover bid ultimately came to nothing as a couple of substantial shareholders opposed the bid, considering it not reflective of the company's long-term potential.
Microequities Asset Management told the AFR that 'ReadyTech is a TechnologyOne in the making'.
For comparison's sake, TechnologyOne (ASX:TNE) has a $4.5bn market cap. So with RDY's $331m market cap, that would be more than 10-fold growth if it was to reach those levels.
Nonetheless, it did take TNE about a decade to reach the levels it is at today – implying that ReadyTech has some way and time to go before reaching this valuation.
The rejection of a takeover for upfront cash was hard for other shareholders to stomach.
ReadyTech will rerate
We are not optimistic that ReadyTech can become a $4bn company anytime in the short to medium term.
But we do think the company has significant upside in the short to medium term.
We would point to the example of Infomedia (ASX:IFM) which was sold off after a takeover bid ultimately came to nothing.
In IFM's instance, there were 3 suitors that all did due diligence but IFM opted to end talks after a few months.
Although the stock was punished in the short-term, it re-rated after IFM's 1HY23 results that depicted that it really was a quality business.
We expect a similar scenario to play out with ReadyTech come the next reporting season.
Stocks Down Under Concierge is here to help you pick winning stocks!
The team at Stocks Down Under have been in the markets since the mid-90s and we have gone through many ups and downs. We have written about every sector!
Our Concierge BUY and SELL service picks the best stocks on ASX. We won't just tell you what to buy – we give you a buy range, price target, a stop loss level in order to maximise total returns and (of course) we tell you when to sell. And we will only recommend very high conviction stocks where substantial due diligence has been conducted.
Our performance is well ahead of the ASX200 and All Ords.
You can try out Concierge for 3 months … for FREE.
GET A 3-MONTH FREE TRIAL TO CONCIERGE TODAY
There's no credit card needed – the trial expires automatically.


Frequently Asked Questions about ReadyTech
If investing in resources stocks (particularly junior explorers) is too risky, another option is investing in metal exchanges. But is…
Investors have been excited about Leo Lithium (ASX:LLL) over the past year and so have we! We thought this was…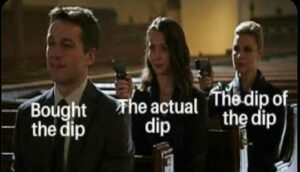 We recap the 5 top investing mistakes that investors make. These mistakes are not the only ones investors make, but…