When 4DS Memory (ASX:4DS) crashed back on 5 November 2021, we explained what was going in this article. In a nutshell, the company had to work out what went wrong with one of its so-called non-platform batches of test wafers before it could move on with integrating its memory technology onto a platform.
TRY STOCKS DOWN UNDER WITH A 30-DAY FREE TRIAL
4DS Memory is getting back on track
Today, the company announced it had worked out what went wrong in the so-called etch step of the manufacturing process. Etching is a semiconductor production step where unwanted material is etched away from the wafer to leave only the desired materials and circuitry on the wafer.
Apparently, the test batch of non-platform wafers suffered from residue's left on the memory cells after etching, which caused short-circuiting in a number of memory cells on these wafers.
4DS Memory has now sorted out these issues by tweaking the masks that are used in the lithography process step just prior to etching. It has also optimised the overall etching process itself.
Third time's a charm
With these problems solved, the company is now moving forward with the production of the third platform lot of wafers, the batch of wafers that will see the memory cells integrated onto a platform, required for a functional chip. The notorious etching step for this batch of wafers will be reached in the next few weeks and 4DS expects to update the market of its progress at that time.
Then in July, 4DS Memory hopes to have this batch of wafers completed and ready for testing and qualification. So, we should be getting another update from the company sometime in the July quarter too.
Share price is making a comeback
In the meantime, the share price reacted quite positively to this morning's news, going up by more than 50% at one point to close out the day 44% higher. We're not quite back to where we were before the bad news was announced last year, i.e. around 13 cents, but we're getting there. We expect the shares will at least get back to 11.5 cents and then the 14-cent level, where strong resistance awaits.
Whether or not 4DS Memory can get back up above 20 cents, as is did twice in 2021, remains to be seen. We'll need some very solid announcements on technical progress for that to happen. Remember, this stock has had several development hiccups along the way, so investors are cautious.
Taking a cue from Weebit Nano
But if all goes well, and looking at closest peer Weebit Nano (ASX:WBT), which has a market cap of $490m, we see no reason why this stock can't get to at least a $250m market capitalisation, which implies about 16 cents per share.
Keep in mind, though, that WBT is much further advanced than 4DS when it comes to commercialisation and we think that stock is severely undervalued. But 4DS has great upside too, in our view. It will just need to keep performing on the technical side in the next 12 months.
Disclosure: Pitt Street Research / Stocks Down Under directors own shares in both 4DS Memory and Weebit Nano.
Learn more about
ASX-listed Semiconductor stocks
with Stocks Down Under!
Subscribe to Stocks Down Under today!
No credit card needed and the trial expires automatically.
If investing in resources stocks (particularly junior explorers) is too risky, another option is investing in metal exchanges. But is…
Investors have been excited about Leo Lithium (ASX:LLL) over the past year and so have we! We thought this was…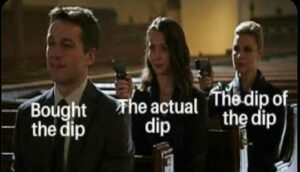 We recap the 5 top investing mistakes that investors make. These mistakes are not the only ones investors make, but…