4DS Memory (ASX:4DS) is a developer of a new memory technology that may someday replace the Flash Memory in your phone and laptop. The technology could potentially also be used in data centres and may even replace some of the DRAM in your computer. The latter is basically the working memory that your computer uses to perform its tasks.
Following an almost 4-week trading suspension, 4DS finally released a technical update that the market didn't take to very kindly…to say the least. The stock crashed more than 50% and ended the day at 6.3 cents. What happened?
Not all ReRAM companies are created equal
Where fellow ReRAM developer Weebit Nano (ASX:WBT) has made tremendous progress in the last four years, and even signed its first commercial customer recently, 4DS has stumbled. Development has been much slower than anticipated, which has led to a big discrepancy in share price development between WBT and 4DS. Yesterday's announcement basically boils down to another delay of up to six months.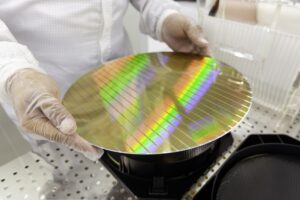 4DS Memory: A tale of two lots
There's a good chance that non-technical investors who read yesterday's announcement couldn't really understand what the company was talking about with all the jargon and technical terms used. In a nutshell, 4DS has been developing and testing its memory cells standalone for a number of years, meaning the cells were never integrated with a so-called memory platform, which is needed to actually make it a commercial product. Belgian development partner IMEC has such a platform and 4DS started with the integration of its memory cells on that platform a while ago. However, the development of the standalone memory cells went ahead in parallel to the platform integration. Are you still with us?
This development fork, where the standalone cells where further developed alongside the platform integration, has now hit a snag. 4DS is saying that the most recent test batch of wafers with standalone memory cells, the so-called non-platform lot, may potentially see degradation of the memory cells' endurance. Endurance basically means the number of times a memory cell can be switched from 0 to 1 and back.
Flash memory has an endurance between 10,000 and 100,000, depending on the type of technology used. And 4DS is saying that the endurance of its own ReRAM technology is still many times better than Flash, but may still see lower endurance compared to the earlier batch of test wafers.
In the meantime, IMEC produced the second so-called platform lot, that is, the wafers on which the memory cells are integrated with the platform. Well, that work will need to be redone now.
So, now what?
The endurance problem will first need to be resolved on the non-platform lot before 4DS can have IMEC integrate it on its platform and a new platform lot can be manufactured for testing. Production of this third platform lot will now start sometime in early 2022 and should be finished by mid-2022, which implies a delay of three to six months.
This new delay, as well as the potential that this technology may never get to commercialisation, is what scared the crap out of the market yesterday, causing 4DS stock to crater.
What do we think?
Developing semiconductor technology is always a slow grind that takes years of hard work, devotion and a lot of money. 4DS memory is no different, although the comparison with WBT is starting to become very painful. However, we expect this technical hurdle will be overcome and that, come mid-2022, 4DS Memory can take the next step in delivering a commercially viable product. If that is the case, the company will also be a step closer to selling its technology to a strategic partner, which has been the aim from the get-go.
So, following the crash, you can now pick up 4DS shares at a market cap of just $83m, which is where the company was 12 months ago. When it comes to development and commercialisation, think 4DS is now about two years behind Weebit Nano, which has a market cap of around $400m ($550m if and when the deep in-the-money options are exercised). The risk is high, but the discount is significant. So, make up your own mind. We bought some 4DS Memory yesterday.
Disclosure: Stocks Down Under/Pitt Street Research directors own 4DS and WBT stock.
Learn more about ASX-listed Semiconductor stocks with
Stocks Down Under!
Subscribe to Stocks Down Under today!
No credit card needed and the trial expires automatically.
When you're invested in a microcap stock, you might hear it has signed a 'non-binding MOU' (short for Memorandum of…
Stock market indices like the ASX 200 and S&P 500 are used as barometers for the performance and overall health…
You'll commonly hear the term 'currency hedging'. It is undertaken by many companies as part of the ordinary course of…