Emerging Stocks Down Under 3 August 2021: Antisense Therapeutics, IXUP, Exopharm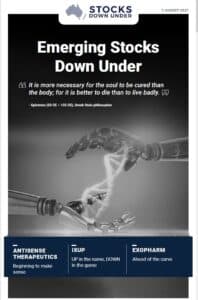 Antisense Therapeutics: Beginning to make sense
In today's edition of Emerging Stocks Down Under, the name Antisense may seem a bit confusing, but in medicine antisense makes a lot of sense. Antisense Therapeutics uses an antisense construct made out of nucleic acids to block the 'sense' of a disease-causing gene. The company has spent the last 20 years working with the legendary Ionis Pharma to develop an antisense drug and reckons it's getting closer to having one in late-stage clinical trails. We believe the upside could be significant.
Also in today's edition, a look at data analysis platform developer IXUP (ASX: IXU) and Extracellular Vesicles drug delivery developer Exopharm (ASX: EX1).
Click here to read the previous edition of Emerging Stocks Down Under published 14 May 2021
For in-depth research reports or to keep up-to-date on the latest Stocks Down Under news see our parent company, Pitt Street Research, or follow us on Facebook and Twitter.