Emerging Stocks Down Under 10 August 2021: DUG Technology, Livehire, Imagion Biosystems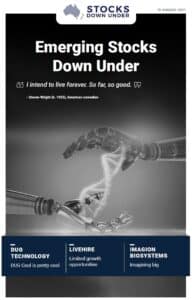 DUG Technology: DUG Cool is pretty cool
In today's edition of Emerging Stocks Down Under, Perth-based DUG Technology is a hard- and software solutions company, providing everything from Computing as a Service to (CaaS) to data centre cooling solutions and geoscience services. With a special focus on environmentally friendly computing, DUG Technology aims to stand out from the highly concentrated software sector through its innovative cooling solution and an immensely large portfolio of services for a company its size. However, we believe the biggest problem for DUG is the simple fact that its competition includes the likes of Microsoft and Amazon. But DUG Cool is pretty cool!
Also in today's edition, a look at talent acquisition software developer Livehire (ASX: LVH) and alternative medical and cancer imaging detection developer Imagion Biosystems (ASX: IBX).
Click here to read the previous edition of Emerging Stocks Down Under published 3 August 2021
For in-depth research reports or to keep up-to-date on the latest Stocks Down Under news see our parent company, Pitt Street Research, or follow us on Facebook and Twitter.