Emerging Stocks Down Under 27 July 2021: Australian Clinical Labs, Xref, ImExHs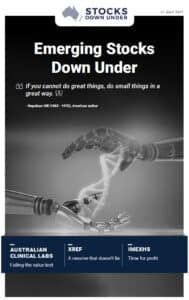 Australian Clinical Labs: Failing the value test
In today's edition of Emerging Stocks Down Under, headquartered in the Melbourne suburb of Clayton, Australian Clinical Labs provides clinical laboratory services using approximately 1,000 collection centres across Australia. The company offers all major tests, including immunology, drug and alcohol testing, routine and advanced pathology, and much more. Despite the demand for stocks in the testing industry, the company's 14 May 2021 IPO was a rather spectacular flop. Even at the lower price Australian Clinical Labs still doesn't pass our value test.
Also in today's edition, a look at resume fraud prevention platform developer Xref (ASX: XF1) and healthcare-focused cloud-based imaging product developer ImExHs (ASX: IME).
Click here to read the previous edition of Emerging Stocks Down Under published 20 July 2021
For in-depth research reports or to keep up-to-date on the latest Stocks Down Under news see our parent company, Pitt Street Research, or follow us on Facebook and Twitter.