Small Cap Stocks Down Under 12 November 2021: Appen, EarlyPay, McGrath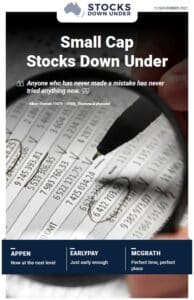 Appen: Now at the next level
In today's edition of Small Cap Stocks Down Under, what the heck went wrong with Appen? On 22 May 2020, when we last wrote about this Sydney-based supplier of training data for artificial intelligence systems, the stock traded around $24 and we called it four stars. Appen, the stock, subsequently went to more than $40, but has since been as low as $8.45 on 12 October 2021. Appen the company, however, is all set for the next stage of its journey. Yes, call us stubborn, but this is still four stars for us.
Also in today's edition, a look at business financing solutions provider EarlyPay (ASX: EPY) and real estate sale and management company McGrath (ASX: MEA).
We last wrote about the Appen on 22 May 2020.
Click here to read the previous edition of Small Cap Stocks Down Under published 5 November 2021
For in-depth research reports or to keep up-to-date on the latest Stocks Down Under news see our parent company, Pitt Street Research, or follow us on Facebook and Twitter.