ASX Top 200 Stocks Down Under 1 August 2022: Breville (ASX:BRG)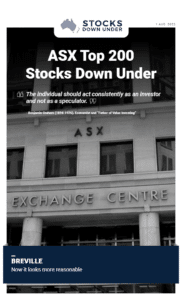 Breville: Now it looks more reasonable
Tech stocks – move over. Since its IPO in 1999, Breville (ASX:BRG) has achieved growth of over 2,000%. This company is a premium kitchen appliances business with a presence in Australia, Europe and the Americas – the latter is responsible for just over 50% of revenues. It has been sold off over concerns that, on one hand, its share price ran too hard during COVID-19 as people stocked up on household goods and, on the other, that these consumers will cut back on spending as inflation rises – if they haven't already. Even if you accept the first concern, we find it too hard to accept the second. We think Breville's category of goods will not see as significant a cutback as predicted and it can grow through international expansion.
Click here to read the previous edition of ASX Top 200 Stocks Down Under published 25 July 2022
For in-depth research reports or to keep up-to-date on the latest Stocks Down Under news see our parent company, Pitt Street Research, or follow us on Facebook and Twitter.