ASX Top 200 Stocks Down Under 8 August 2022: Air New Zealand (ASX:AIZ)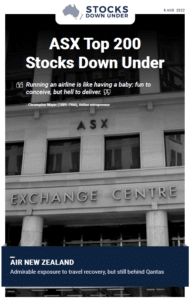 Air New Zealand: Admirable exposure to travel recovery, but still behind Qantas
Two weeks after covering Qantas (ASX: QAN) – which is a Concierge pick – we thought we would turn our attention to the other flag carrier on the ASX, Air New Zealand (ASX: AIZ). Like Qantas, Air New Zealand offers exposure to the recovery in travel thematic, but with less PR problems than Qantas. And you might argue there's more upside as the current bear market has bought it back to Corona Crash levels. However, we don't think it was just the market that sent it crashing back to earth.
Click here to read the previous edition of ASX Top 200 Stocks Down Under published 1 August 2022
For in-depth research reports or to keep up-to-date on the latest Stocks Down Under news see our parent company, Pitt Street Research, or follow us on Facebook, LinkedIn and Twitter.