ASX Top 200 Stocks Down Under 5 December 2022: Tabcorp (ASX:TAH)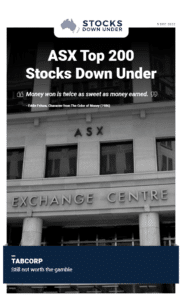 Tabcorp: Still not worth the gamble
For a 'consumer discretionary' stock, Tabcorp has held up quite well in recent months, sitting on a 15% gain since early June. Investors are likely to be pleased, especially given that The Lottery Corporation (ASX:TLC) was spun out recently and had the reputation of being the better performing entity. However, we have a few concerns with Tabcorp. Yes, there's the negative ESG angle to which you could just say 'if you don't like it, don't buy it'. But beyond that, we think there's a major problem in the industry (namely, competition) that the company itself is concerned about as well.
Click here to read the previous edition of ASX Top 200 Stocks Down Under published 28 November 2022.
For in-depth research reports or to keep up-to-date on the latest Stocks Down Under news see our parent company, Pitt Street Research, or follow us on Facebook, LinkedIn and Twitter.