Resources Stocks Down Under 9 September 2021: Calima Energy, Comet Ridge, White Rock Minerals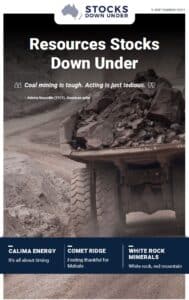 Calima Energy: It's all about timing
In today's edition of Resources Stocks Down Under, since its purchase of a home-grown Canadian oil and gas company, Calima Energy is suddenly an oil and gas producer in its own right with two existing gas plays, Brooks and Thorsby, in western Canada and another, Montney, with development potential. The company has picked up the gauntlet fast, installing four new wells at Brooks with the expectation that first production will start very soon. And that's just one stage of Calima's expansion strategy.
Also in today's edition, a look at oil and gas explorer Comet Ridge (ASX: COI) and gold and silver miner White Rock Minerals (ASX: WRM).
Click here to read the previous edition of Resources Stocks Down Under published 2 September 2021
For in-depth research reports or to keep up-to-date on the latest Stocks Down Under news see our parent company, Pitt Street Research, or follow us on Facebook and Twitter.