ASX Top 200 Stocks Down Under 26 July 2021: Domino's Pizza Enterprises, Oil Search, Downer EDI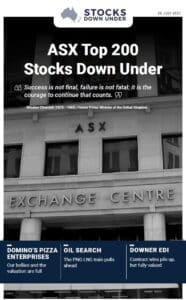 Domino's Pizza Enterprises: Our bellies and the valuation are full
In today's edition of ASX Top 200 Stocks Down Under, The last time we wrote about Brisbane-based Domino's Pizza Enterprises on 3 February 2020, we were weary of the company's plan to take-up new franchises. As it turned out, it could've probably benefitted from having even more locations to meet the increased consumer appetite for take-out and delivery food during the pandemic. The stock has climbed to record high levels above $100 bringing along with it a much higher valuation. With growth expected to slow as people return to in-person dining, we believe investors are likely to reconsider Domino's bloated valuation and make share reservations elsewhere.
Also in today's edition, a look at oil and gas explorer Oil Search (ASX: OSH) and engineering and construction firm Downer EDI (ASX: DOW).
Click here to read the previous edition of ASX Top 200 Stocks Down Under published 19 July 2021
For in-depth research reports or to keep up-to-date on the latest Stocks Down Under news see our parent company, Pitt Street Research, or follow us on Facebook and Twitter.