Emerging Stocks Down Under 29 November 2022: SciDev (ASX:SDV)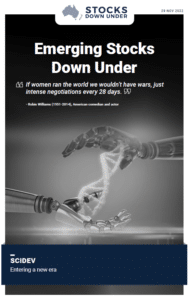 SciDev: Entering a new era 
2022 has been a rollercoaster year for SciDev shareholders, but it looks set to finish on a high. This company has technology that allows for cost-effective treatment of wastewater from good manufacturing and mineral processing. The company's products are sold to several industries globally, including power generation, cosmetics manufacturing and paint manufacturing.
Click here to read the previous edition of Emerging Stocks Down Under published 22 November 2022.
For in-depth research reports or to keep up-to-date on the latest Stocks Down Under news see our parent company, Pitt Street Research, or follow us on Facebook and Twitter.