Emerging Stocks Down Under 6 December 2022: FBR (ASX:FBR)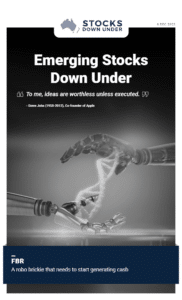 FBR: A robot brickie that needs to start generating cash
A robot that can build a brick house – how good does that idea sound? FBR has been working on that for a number of years, but is yet to commercialise its technology. Its share price has been very volatile, surging with the occasional announcement that a milestone has been reached, but declining over long periods as investors shift to companies that appear to be going somewhere or have made a few consecutive exciting announcements. Will investors ever make a decent return on FBR? Probably, but not in the way you might think.
Click here to read the previous edition of Emerging Stocks Down Under published 29 November 2022.
For in-depth research reports or to keep up-to-date on the latest Stocks Down Under news see our parent company, Pitt Street Research, or follow us on Facebook and Twitter.