Emerging Stocks Down Under 20 April 2021: Empired, Netlinkz, SenSen Networks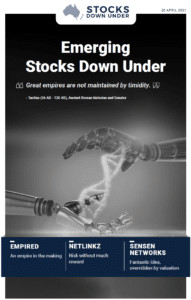 Empired: An empire in the making
In today's edition of Emerging Stocks Down Under, headquartered in Perth is an empire in the making. Empired serves businesses across Australia and New Zealand, offering clients the ability to bring their operations into the 21st century. The company has had some significant contract wins and things seem to be on the up-and-up, especially for shareholders. During 2020, shareholders ended the year with a tidy 89% profit and the stock has just kept on rising through 2021. We think this is a sign that the market has finally recognised the value of Empired.
Also in today's edition, a look at cyber security product developer Netlinkz (ASX: NET) and smart traffic manager SenSen Networks (ASX: SNS).
Click here to read the previous edition of Emerging Stocks Down Under published 13 April 2021
For in-depth research reports or to keep up-to-date on the latest Stocks Down Under news see our parent company, Pitt Street Research, or follow us on Facebook and Twitter.