ASX Top 200 Stocks Down Under 20 December 2021: JB Hi-Fi, Premier Investments, Insignia Financial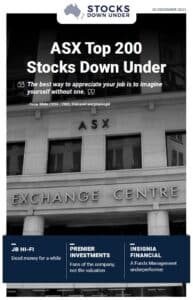 JB Hi-Fi: Dead money for a while
In today's edition of ASX Top 200 Stocks Down Under, we last reported on Melbourne-based JB Hi-Fi on 5 June 2020, rating the stock two stars and illustrating the dangerous of investing at the same time, the unknown. The market had been expecting a decline in EBITDA of 6% year-over-year and while we were confident that JB Hi-Fi was standing strong against COVID-19 and selling well online, we were not confident enough to go against the consensus of 14 analysts. Well, an announcement released four business days later, on 11 June 2020, smashed the market's expectations and proved to us we should have trusted our gut. The announcement sent the stock on a serious upward trajectory. But now things are beginning to normalise and its unreasonable to expect FY22 will surprise to the upside, but looking forward to FY23 and things are controversial, but bright.
Also in today's edition, a look at owners of the Just Group, Premier Investments (ASX: PMV) and asset manager Insignia Financial (ASX: IFL).
We last wrote about the JB Hi-Fi, Premier Investments, and Insignia Financial on 5 June 2020, 2 June 2020, and 4 June 2020, respectively.
Click here to read the previous edition of ASX Top 200 Stocks Down Under published 13 December 2021
For in-depth research reports or to keep up-to-date on the latest Stocks Down Under news see our parent company, Pitt Street Research, or follow us on Facebook and Twitter.