ASX Top 200 Stocks Down Under 6 December 2021: Meridian Energy, Seven Group Holdings, Chorus Limited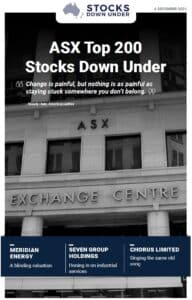 Meridian Energy: A blinding valuation
In today's edition of ASX Top 200 Stocks Down Under, we first reported on Wellington, New Zealand-based Meridian Energy well over a year ago on 15 May 2020, rating this solar, hydo and wind electricity generator two stars. The stock was $4.36 per share at the time and in hindsight, a three-star rating was probably more appropriate, since the stock has remained mostly flat apart from a massive run-up and collapse in the share price between mid-September 2020 and the end of January 2021.
Also in today's edition, a look at industrial services and equipment provider Seven Group Holdings (ASX: SVW) and New Zealand electricity generator and provider Chorus Limited (ASX: CNU).
We last wrote about the Meridian Energy, Seven Group Holdings, and Chorus Limited on 15 May 2020, 14 May 2020, and 21 May 2020, respectively.
Click here to read the previous edition of ASX Top 200 Stocks Down Under published 29 November 2021
For in-depth research reports or to keep up-to-date on the latest Stocks Down Under news see our parent company, Pitt Street Research, or follow us on Facebook and Twitter.