Resources Stocks Down Under 25 March 2021: Peak Resources, Agrimin Limited, Blue Star Helium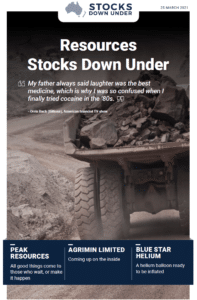 Peak Resources: All good things come to those who wait, or make it happen
In today's edition of Resources Stocks Down Under, Peak Resources was close to receiving the mining approval from its flagship Ngualla Rare Earth Project in Tanzania, but since the country enacted wide-ranging changes to its mining industry, the company had to be patient. That patience is now paying off with the (sort of) imminent arrival of Ngualla's Special Mining License (SML) or permit for those projects Tasmania deems particularly important. The arrival of the SML and land purchase for a concentrate refinery will bring Peak a step closer to becoming an integrated, non-Chinese, rare earths producer.
Also in today's edition, a look at potash miner Agrimin Limited (ASX: AMN) and helium driller Blue Star Helium (ASX: BNL).
Click here to read the previous edition of Resources Stocks Down Under published 18 March 2021
For in-depth research reports or to keep up-to-date on the latest Stocks Down Under news see our parent company, Pitt Street Research, or follow us on Facebook and Twitter.