Small Cap Stocks Down Under 7 October 2022: DGL Group (ASX:DGL)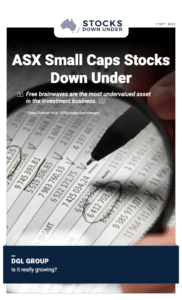 DGL Group (ASX:DGL): Is it really growing?
DGL Group (ASX: DGL) was a market darling for much of 2021, listing at $1 and hitting an all-time high of over $4. Yes, there's those controversial comments made by its CEO, but shares took a particularly strong hit after its FY22 results. This was despite the company generating a record profit in its results. Are investors just profit-taking? Or do they have other problems with its results beyond an impressive bottom line? In our view, the answer is the latter. But are those concerns legitimate?
Click here to read the previous edition of Small Cap Stocks Down Under published 30 September 2022.
For in-depth research reports on ASX-listed stocks, check out our parent company, Pitt Street Research, or follow us on Facebook and Twitter.