Emerging Stocks Down Under 10 November 2020: Smartpay, Incannex Healthcare, Cirralto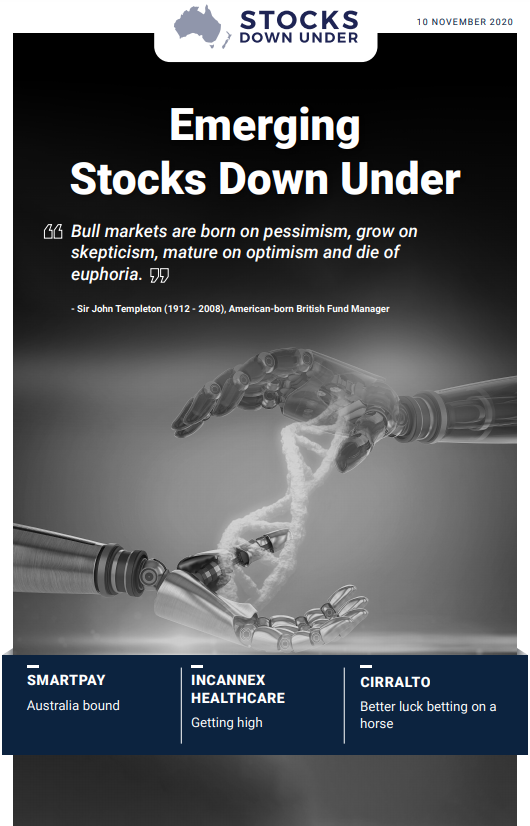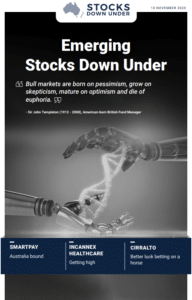 Smartpay: Australia bound
In today's edition of Emerging Stocks Down Under, headquartered in Auckland, New Zealand, SmartPay is the largest independent EFTPOS provider in both its home country and Australia. Like many companies in the payment facilitator industry, recurring revenue is the lifeblood of SmartPay. COVID-19 was not an operational disaster for the company, but it did cause its New Zealand asset sale to fall through. With COVID-19 accelerating the trend towards a cashless society, we believe SmartPay's FY20 growth positions the company to take full advantage of Australia's economic reopening.
Also in today's edition, a look at cannabis based drug manufacture Incannex Healthcare (ASX: IHL) and Software as a Service developer Cirralto (ASX: CRO).
Get access to all editions through a 2-week FREE TRIAL. No charge on sign up.
Click here to read the previous edition of Emerging Stocks Down Under published 2 November 2020
For in-depth research reports or to keep up-to-date on the latest Stocks Down Under news see our parent company, Pitt Street Research, or follow us on Facebook and Twitter