Actinogen Medical (ASX: ACW): Good news on phase 2 trials can catapult this stock
Working on a new drug for Alzheimer's disease
Actinogen Medical (ASX: ACW) is a Sydney-based biotechnology company working on finding treatments for Alzheimer's and other neurological diseases. It's working on a number of drugs, but its Xanamem's recent clinical developments are what's got the market excited.
No time to do stock research, but you still want to invest?
Stocks Down Under Concierge gives you timely BUY and SELL alerts on ASX-listed stocks!
GET A 3-MONTH FREE TRIAL TO CONCIERGE TODAY
Xanamem is trialling a new approach to treat patients with mild Alzheimer's disease by controlling the level of stress hormone cortisol inside brain cells. High levels of cortisol have been associated with cognitive impairment in Alzheimer's, depression and many other diseases.
Current drugs approved by the FDA to help manage symptoms of Alzheimer's are Cholinesterase inhibitors, which try to maintain the levels of a chemical messenger that's important for alertness, memory and judgement.
Another drug commonly used for the later stages of Alzheimer's disease is Memantine, which works by regulating the activity of glutamate, a messenger chemical widely involved in brain functions.
The market size for Alzheimer's drugs is huge
The Alzheimer's market size was valued at more than US$4 billion in 2021 and it is expected to increase to almost US$10 billion by 2031, according to Bloomberg. According to a study published in 2021, an estimated 6.2 million Americans aged 65 and older are living with Alzheimer's and the number can grow to 13.8 million in the next 40 years. One in every three deaths in elderlies is associated with Alzheimer's.
Actinogen expects to receive Xanamem phase 2 trial results by the end of October
Actinogen completed a $13.3m capital raising in FY22 and reallocated around $12m of its funds to cognition-focused clinical trial programs to prioritise its work on Alzheimer's trials.
The company announced that it is expecting to have the clinical data readouts for biomarkers in Alzheimer's disease before the end of October 2022. While it is not technically possible for us to assess the probabilities of the trial's success, Actinogen's CEO, Dr. Steven Gourlay, sounded very confident in the company's FY22 report published on 25 August.
He said, "Based on the results of our trials conducted in more than 300 patients so far, we firmly believe that Xanamem has the potential to be a first-in-class drug in the treatment of early-stage Alzheimer's disease and to be a first-in-class cognitive enhancer for depression."
A major success with Xanamem's phase 2 trial can send Actinogen's share price flying
In late September, Biogen inc. (NASDAQ: BIIB), a giant US$40bn market capitalisation drug manufacturer for neurological and neurodegenerative diseases announced a surprise success of its experimental Alzheimer's drug it developed with its Japanese partner Eisai. Biogen's share price soared as high as 40% on the day, adding roughly US$10 billion to its market capitalisation in one day.
The companies said their drug Lecanemab reduced cognitive and functional decline by 27%, compared with a placebo, over 18 months in a phase 3 study of 1,800 patients with early-stage Alzheimer's. Although the drug was also linked to higher rates of brain swelling and small bleeds, the company said they were rarely symptomatic, according to an article realised by The Wall Street Journal.
Strong potential for other developers
Following this exciting market reaction, shares of smaller Alzheimer's drug developers spiked as well. Shares of Acumen Pharmaceuticals (NASDAQ: ABOS) jumped by 61% and shares of Irish pharmaceutical company, Porthena Corporation (NASDAQ: PRTA), jumped by 64%.
Our key take away from this is that we can expect a strong initial market reaction to possible positive news from the Xanamem phase 2 trial, given its small market capitalisation of around $130m.
How to play ACW
We expect a significant jump in Actinogen's share price in the case of possible successful trial results. Therefore, this can be an opportunity for speculators who can also deal with a sudden drop in the share price as well, in the case of a disappointing announcement.
As such, we think buying at prices below 10 cents and waiting for the company's announcement of the trial results, expected by the end of October, can be a sound strategy to play this speculative opportunity.
For some more background, have a read of our article on Actinogen in Stocks Down Under in December 2020!
No time to do stock research, but you still want to invest?
Stocks Down Under Concierge gives you timely BUY and SELL alerts on ASX-listed stocks!
GET A 3-MONTH FREE TRIAL TO CONCIERGE TODAY
No credit card needed and the trial expires automatically.


Frequently Asked Questions about Actinogen Medical
If investing in resources stocks (particularly junior explorers) is too risky, another option is investing in metal exchanges. But is…
Investors have been excited about Leo Lithium (ASX:LLL) over the past year and so have we! We thought this was…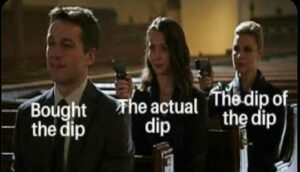 We recap the 5 top investing mistakes that investors make. These mistakes are not the only ones investors make, but…