Altech Chemicals (ASX: ATC) is flying high on the back of a joint venture deal
Getting
exposure to the green energy transition
Shares of the emerging high purity alumina (HPA) producer, Altech Chemicals (ASX: ATC), soared in the second half of September after the company announced it had signed a joint venture agreement with a German battery institute, Fraunhofer IKTS, to commercialise its patented Sodium Alumina Solid State (SAS) batteries.
No time to do stock research, but you still want to invest?
Stocks Down Under Concierge gives you timely BUY and SELL alerts on ASX-listed stocks!
GET A 3-MONTH FREE TRIAL TO CONCIERGE TODAY
The joint venture, with Altech owning 75%, has been formed to construct a 100 MWH grid storage in Germany with SAS batteries on Altech's land in Schwarze Pumpe, Germany. Fraunhofer IKTS has been developing the SAS technology over the last 8 years to produce more capable batteries cheaper.
❶ Altech enters into a joint venture with the German battery institute, Fraunhofer IKTS, to construct a 100MWH SAS batteries storage grid. (To Commercialise 100MWh Sodium Alumina Solid State Batteries)
Sodium Alumina Solid State (SAS) battery is a game changer
Altech's announcement mentions many characteristics of the SAS batteries to make them superior to lithium-ion batteries, particularly for applications in grid storage facilities.
SAS batteries use solid ceramics instead of flammable liquid electrolytes, which makes them fire and explosion-proof. SAS batteries can also operate efficiently at temperatures in a range of -20C to +60C as opposed to a range of +15C to +35C for lithium-ion batteries.
Batteries with a much longer life span
The replacement of liquid electrolytes with ceramics means no sodium deterioration in the SAS batteries with each charge and discharge, increasing the life span of SAS batteries beyond 15 years, significantly more than that of Lithium-ion batteries.
SAS batteries use sodium ions from common table salt instead of lithium and the cathode is built of common salt (sodium chloride) and nickel. There's also no need for cobalt, graphite and copper for these batteries, making them 10-50% cheaper than lithium-ion batteries to produce, by Altech's estimate.
However, due to the lower power density and higher weight of SAS batteries, they are better alternatives for grid power storage, but not for applications such as vehicle batteries.
Producing high-purity alumina from its own kaolin deposit
Prior to Altech's JV announcement, the company was known mainly for its HPA production capabilities. HPA has many applications in different industries, such as in the production of scratch-resistant glass or high-strength ceramic tools.
But HPA's application to produce separator coating in lithium-ion batteries was what got the market excited. Altech's in-house research showed that incorporating high-capacity HPA-coated silicon and graphite increased lithium-ion batteries' energy capacity by 30% with improved battery life.
A processing plant in Malaysia
Altech is constructing a 4,500tpa HPA processing plant in Johor, Malaysia and has completed stages 1 and 2 of the project. Feedstock for the plant will be sourced from the company's 100%-owned kaolin deposit at Mechering, WA and shipped to Malaysia. Altech mentions a pre-tax NPV of US$505m for this project at a discount rate of 7.5% (which strikes us as a bit low in the current interest rate environment) and plans to finance it by issuing green bonds and finding joint-venture partners.
The company's latest update on its WA's kaolin deposit reported an inferred resource of 125 million tons of kaolin with a 250–year mine life. Currently, the deposit provides the entire feedstock required for the HPA plant, but Altech has mentioned that it would consider divesting the kaolin project should it receive an attractive offer. With other cumbersome projects on its hands, it shouldn't come as a surprise to see it reducing some of the load to focus on the projects with a higher priority.
How to play Altech's stock?
Altech's share price broke the downtrend after its JV announcement and is now pulling back to the broken trendline, which should now act as support. It should then continue to rise alongside the short-term uptrend trendline (the green line on the chart).
As such we think prices near the uptrend (below 8 cents) are attractive for a target price of the latest high at 13 cents to be reached in the next several months.
Stop loss at 6 cents
A confirmed break below 6 cents would mean that the JV announcement has completely lost its impact on the share price and that the uptrend has been broken. This would indicate significant bearish sentiment on the stock that can open the way down to lower share prices.
No time to do stock research, but you still want to invest?
Stocks Down Under Concierge gives you timely BUY and SELL alerts on ASX-listed stocks!
GET A 3-MONTH FREE TRIAL TO CONCIERGE TODAY
No credit card needed and the trial expires automatically.


Frequently Asked Questions about Altech Chemicals
If investing in resources stocks (particularly junior explorers) is too risky, another option is investing in metal exchanges. But is…
Investors have been excited about Leo Lithium (ASX:LLL) over the past year and so have we! We thought this was…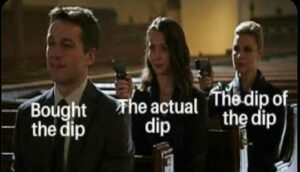 We recap the 5 top investing mistakes that investors make. These mistakes are not the only ones investors make, but…