City Chic Collective (ASX: CCX) can produce plus-sized share price performance
Remember our call on Cettire from 21 September? It jumped 100% in 4 weeks!! We have another retailer for you!
City Chic Collective (ASX: CCX) is a specialty retailer of plus-sized women's clothing. It sells its products online and through a network of 90 stores across Australia and New Zealand under the brands of City Chic, CCX, Hips & Curves and Fox & Royal.
City Chic also sells online to markets in Europe (under the Navabi brand), the UK (under the Evans brand) and the US (under the Avenue brand) as well as through third-party marketplace and wholesaler partners.
No time to do stock research, but you still want to invest?
Stocks Down Under Concierge gives you timely BUY and SELL alerts on ASX-listed stocks!
GET A 3-MONTH FREE TRIAL TO CONCIERGE TODAY
Pandemic-driven online shopping drove City Chic's share price
The online shopping boom during the pandemic sent City Chic's share price flying in line with the rest of online retailers to see an all-time high of $6.80 in October 2021.
With the growth stocks getting increasingly out of favour in 2022 and the company reporting slower-than-expected earnings growth, City Chic's share price went on a downtrend in the last 12 months that has brought it down to almost its Corona Crash low of around $1.00.
Low cash and skyrocketing inventory levels spooked investors
When City Chic announced in its 1HY22 report that it's making a strategic investment in inventory to proactively manage risks associated with global supply chain volatility, nobody expected the company to end FY22 with $196m in inventories and only $10m in cash, which both seem exceedingly out of scope for a company with annual sales of less than $370m and a market capitalisation of $282m.
The FY22 report already showed a drop in gross margin from 49% in FY21 to just above 42%. And now the giant inventory position and the company's liquidity issues led to the market expecting selling at significant discounts to clear out the company's out-of-date inventory, leading to even lower gross profit margins.
The fundamentals of the business are still unchanged
Although significant in the short term, City Chic's problems are hopeful short-lived with a limited impact on the company's financial performance longer term.
City Chic's FY22 results presentation says that a substantial part of its current inventory is seasonal and it is targeting an inventory balance of $125m-$135m at the end of FY23 by selling through its inventory and a reduction in forward orders into FY23. So, the inventory issues should largely be sorted by the end of this financial year.
Selling to a huge market through established brands
According to a research report by Research and Markets, the global plus-size women's clothing market stood at US$193.9bn in 2021 with an expected average annual growth rate of 4.3% to 2030. The report explains how the plus-size apparel market is expected to grow faster than those markets for other apparel as plus-size customers increasingly seek options that serve a similar level of luxury as women with smaller sizes enjoy.
City Chic sells more than 8,000 styles through more than 15 brands to markets around the globe. Its customer base has increased from 385,000 in FY19 to 1.4m in FY22 and its revenue has increased from $150m to $370m in the same period.
City Chic's share price may have reached a bottom
The short-sellers report provided by ASIC shows how the percentage of City Chic stocks shorted increased from 0.25% in October 2021 to peak at 9.4% in September followed by a sharp drop in the last 40 days, which we think is an indication of shorters taking cover as the downside potential for the shares now seems to be very limited at the current price.
Based on consensus analyst estimates, City Chic shares are trading at a forward P/E multiple of less than 10x with growing earnings expected for FY24 and FY25.
How to play City Chic's stock?
The developed market structure in the last couple of months shows a price-MACD convergence (the green lines on the chart). From a technical analysis point of view, the fact that the share price has made three consecutive lows while the MACD line has increased is an indication of fading bearish momentum. This can provide the basis for a mean-reversion in the share price towards the downtrend (the blue line on the chart) with a target price of $2.00 to $2.50.
Stop loss at $1.00
A confirmed break below the psychologically important support level of $1.00 would be an indication of continuing bearish sentiment on the stock that can open the way down to lower levels.
No time to do stock research, but you still want to invest?
Stocks Down Under Concierge gives you timely BUY and SELL alerts on ASX-listed stocks!
GET A 3-MONTH FREE TRIAL TO CONCIERGE TODAY
No credit card needed and the trial expires automatically.


Frequently Asked Questions about City Chic Collective
If investing in resources stocks (particularly junior explorers) is too risky, another option is investing in metal exchanges. But is…
Investors have been excited about Leo Lithium (ASX:LLL) over the past year and so have we! We thought this was…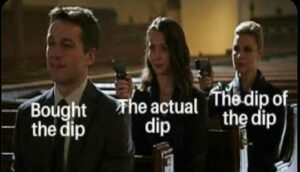 We recap the 5 top investing mistakes that investors make. These mistakes are not the only ones investors make, but…